WEDNESDAY, JULY 3, 2013
| | |
| --- | --- |
| | JULY 18-21: DENVER POST UNDERGROUND MUSIC SHOWCASE AIRS LIVE ON OPEN AIR |
For the second year in a row, OpenAir will broadcast live as more than 400 local, national and international bands converge on South Broadway for the Denver Post Underground Music Showcase (UMS), July 18-21.
"As far as music festivals go, UMS is about as Colorado as it gets," says OpenAir Program Director Mike Flanagan. "Our partnership with the Denver Post has added a new dynamic to this quintessential local music event, and it's a great opportunity for us to interact with artists and listeners in-person."
Colorado music fans will enjoy shows by local favorites Snake Rattle Rattle Snake, Dragondeer, SHEL and Ian Cooke. Among the national acts performing are Mudhoney, Cults, Born in the Flood, Lord Huron, Bleached and Hockey.
Listen to OpenAir from 4-6 p.m. each day for behind-the-scenes reports, interviews and festival updates.
And while you're on South Broadway, share photos of UMS through social media by tagging @OpenAirCPR, and follow #UMS2013 to get the latest.
Visit openaircpr.org for details on UMS tickets, exclusive giveaways and information about other summer events OpenAir is hosting, including the Denver Film Society's "Raise the Roof" block parties on July 11 and Aug. 15.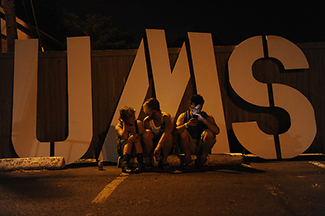 Photo credit: Seth McConnell, heyreverb.com.

| | |
| --- | --- |
| | AWARD-WINNING ARTS REPORTER TO LEAD NEW ARTS BUREAU |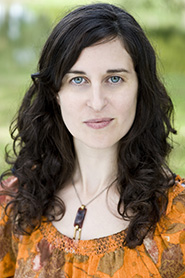 As CPR prepares to launch a new, multi-media arts bureau later this year, Chloe Veltman will join CPR in July to lead the initiative as arts bureau editor.
"I'm enthused by CPR's leadership and vision to support the arts and bring Colorado's cultural community to the forefront," says Chloe. "This initiative will help serve a larger, more diverse audience with comprehensive arts coverage."
Chloe has more than a decade of experience in arts reporting, having worked as a cultural correspondent for The New York Times and published articles in national and international publications, including The Daily Telegraph, The Wall Street Journal, BBC Music Magazine and American Theatre Magazine.
Since 2010, Chloe has been the host and producer of "VoiceBox," a weekly, syndicated public radio and podcast series out of KALW in San Francisco that explores the human voice and the best of the vocal music scene. She was also a John S. Knight Journalism Fellow at Stanford University where she focused on ways to engage the community through the arts.
Outside her journalism career, Chloe is an accomplished performer, having sung and played the oboe in several chamber ensembles and orchestras in the San Francisco Bay Area.
CPR's arts bureau and online arts hub was made possible by a three-year, $900,000 grant from The Bonfils-Stanton Foundation with the goal of significantly increasing arts coverage across the state. When launched, the bureau will provide a range of arts news, from previews and in-depth stories about major cultural and arts organizations, to funding and sustainability of the arts, and connections to other topic areas such as education and state government.
Photo: Chloe Veltman. Photo credit: Liz Caruana.
| | |
| --- | --- |
| | THE PHILADELPHIA ORCHESTRA & NEW YORK PHIL BROADCAST LIVE ON CPR'S SUMMERFEST |
CPR Classical's Saturday SummerFest Concert Series continues this month with five performances from Bravo! Vail, including live broadcasts of The Philadelphia Orchestra and the New York Philharmonic.
Saturday SummerFest Concert Series
July 6, 7 p.m. — Bravo! Vail | Dallas Symphony Orchestra | Conductor, Jaap van Zweden | Soloist, Garrick Ohlsson | Dvorák: Symphony No. 9
July 13, 6 p.m. — Bravo! Vail *Live Broadcast Philadelphia Orchestra | Conductor: Yannick Nézet-Séguin | Verdi: Messa de Requiem
July 20, 7 p.m. — Bravo! Vail | Anne-Marie McDermott, Members of the Philadelphia Orchestra, and Calder Quartet | Dvorák: Serenade for Wind Instruments; Piano Quintet No. 2
July 21, 6 p.m. — Bravo! Vail *Live Broadcast
New York Philharmonic | Conductor: Alan Gilbert | Soloist: Glenn Dicterow and Jean-Yves Thibaudet | Rimsky-Korsakov: Scheherazade
July 27, 7 p.m. — Bravo! Vail | Cantus, Calder Quartet, Paul Neubauer and Anne-Marie McDermott | Dvorák: Moravian Duets for Chorus and Piano; Janácek: String Quartet No. 2; Dvorák: Quartet for Piano and Strings
Find the complete schedule of Saturday SummerFest Concert Series broadcasts at www.cpr.org.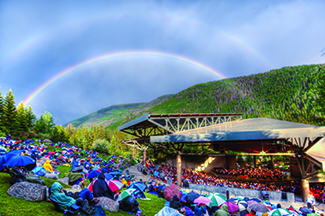 Photo credit: Zack Mahone.