THURSDAY, JUNE 6, 2013
| | |
| --- | --- |
| | NEW MUSIC AND NATIONAL PROGRAMS ON CPR NEWS |
Listeners will find more variety on CPR News this summer as three new programs are added to the weekly schedule, including the locally produced "OpenAir Hour," "TED Radio Hour" and "Here and Now."
"The OpenAir Hour" offers another opportunity to discover today's music and learn about artists who are contributing to the Colorado music scene. Airing Tuesday-Friday at 9 p.m. and weekends at 6 p.m., the program features highlights from "RetroFit," "The Best of Mile High Noon" and "Off the Charts."
Listeners can tune to CPR News for weekly broadcasts of "TED Radio Hour," NPR's program inspired by the TED Talks series. "TED Radio Hour" airs Sunday at 2 p.m. and Monday at 9 p.m.
Starting July 1, WBUR's national news program, "Here and Now," will air Monday-Thursday from 12-2 p.m. The program replaces "Talk of the Nation," which NPR will discontinue on June 30. "Science Friday" will air during it's regularly scheduled time from 12-2 p.m. on Friday.
View the complete CPR News schedule.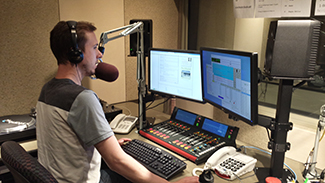 Photo: OpenAir host Corey Jones in the studio producing "The Best of Mile High Noon."

| | |
| --- | --- |
| | SATURDAY SUMMERFEST CONCERT SERIES DEBUTS ON CPR CLASSICAL |
Mark your calendars! June 29-Aug. 17, CPR Classical is expanding SummerFest with a Saturday concert series that includes four live broadcasts from Bravo! Vail.
"This is the first time that CPR is broadcasting a series of live concerts during SummerFest," says CPR Classical Program Director Monika Vischer. "Another first for the summer are broadcasts of the Dallas Symphony, the Philadelphia Orchestra and the New York Philharmonic from Bravo! Vail, whom we are thrilled to be working with in this significantly expanded capacity."
In addition to partnering with Bravo! Vail, CPR Classical will also present music from several other festivals across the state. "Colorado is the destination for classical music events in the summer, and we're looking forward to taking SummerFest to a whole new level," adds Monika.
Host Charley Samson will open SummerFest with a preview of the concert series at 7 p.m. on June 29, followed by a live broadcast of the "Barber of Seville" from the Central City Opera House at 7:30 p.m. Then it's on to Bravo! Vail for these live broadcast events:
July 13, 6 p.m.—Philadelphia Orchestra | Conductor: Yannick Nézet-Séguin | Verdi: Messa de Requiem
July 21, 6 p.m.—New York Philharmonic | Conductor: Alan Gilbert | Soloist: Jean-Yves Thibaudet | Rimsky-Korsakov: Scheherazade
Aug. 1, 7:30 p.m.—Jasper String Quartet | Soloists: Anne-Marie McDermott and Steven Williamson | Mozart: Quintet for Clarinet and Strings; Messiaen: Quartet for the End of Time
In addition, the SummerFest concert series will also include the following recorded performances:
July 6, 7 p.m.—Dallas Symphony Orchestra | Conductor: Jaap van Zweden | Soloist: Garrick Ohlsson | Dvorák: Symphony No. 9
July 20, 7 p.m.—Anne-Marie McDermott, Members of the Philadelphia Orchestra, and Calder Quartet | Dvorák: Serenade for Wind Instruments; Piano Quintet No. 2
July 27, 7 p.m.—Cantus, Calder Quartet, Paul Neubauer and Anne-Marie McDermott | Dvorák: Moravian Duets for Chorus and Piano; Janácek: String Quartet No. 2; Dvorák: Quartet for Piano and Strings
Aug. 3, 7 p.m.—Highlights from the 2013 Colorado College Summer Music Festival
Find more information about the Saturday SummerFest concert series at www.cpr.org.

| | |
| --- | --- |
| | BEHIND THE SCENES OF CPR'S AWARD-WINNING EDUCATION SERIES |
It's been one year since CPR Education Reporter Jenny Brundin filed her first story about Trevista, a struggling school in northwest Denver. Since then, she's produced nine in-depth reports for the "Following Trevista" series.
"With any long-term project, you anticipate obstacles. That's part of being a reporter—you can't always plan ahead," says Jenny. "I ran into a few bumps, but overall the series tells a compelling story from the point of view of all stakeholders. I think it gives listeners a good understanding of how the turnaround process can affect communities."
Producing the series involved comprehensive planning from the onset and "a lot of forethought," says Jenny. "It differed from daily news in that my editor [Kelley Griffin, vice president of news] and I spent more time mapping out elements of the story in advance, establishing characters and trying to find the best person to bring each piece of the story to life."
"Following Trevista" received awards from the Colorado Broadcasters Association and the National Awards for Education Reporting. Jenny notes that the most enjoyable part of working on the series was telling the students' stories. "I'm just in awe of seeing so many students recognize and take responsibility for their role in improving the school. They were very honest about where they were and where they are now."
Listen for Trevista updates in the coming months.