TUESDAY, MAY 7, 2013
| | |
| --- | --- |
| | MONIKA VISCHER NAMED CLASSICAL PROGRAM DIRECTOR |
For more than 20 years,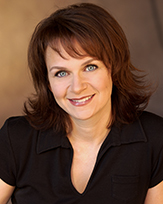 Monika Vischer has been a familiar voice on CPR's classical service. These days, she's taking on a new role as program director for CPR Classical.
"I'm excited about this opportunity to help our listeners mine the many beauties and discoveries that exist in the classical music world, including the stories behind the music," says Monika. "They often reveal something new about ourselves and the human condition."
One of Monika's first tasks as program director is preparing for CPR's annual classical series, "SummerFest." "It's a big undertaking, but Colorado is a renowned destination for classical music in the summertime, and 'SummerFest' allows us to highlight the breadth and depth of music festivals happening across the state," says Monika. "It also gives listeners a chance to experience the world-class music being performed right in our own backyard."
The first "SummerFest" live broadcast features Central City Opera's season-opening performance of Rossini's "The Barber of Seville," on June 29. Find more information about "Summerfest" at www.cpr.org.

Photo: Monika Vischer.
CPR'S LEGISLATIVE COVERAGE CONTINUES
AS EVENTFUL SESSION WINDS DOWN
Gun control, civil unions, immigration reform, public school funding…the list of issues Colorado lawmakers have considered in 2013 goes on and on.
"Many reporters are calling this the busiest session they can remember with key issues like oil and gas regulation, and the structure of the recreational marijuana industry still being deliberated in the final weeks of the session," says CPR's General Assignment Reporter Megan Verlee, who has covered stories from the Capitol since the session began in January.
Democrats, who control the house and senate, put forth an ambitious agenda to debate Colorado's stance on many issues in the national spotlight, but as Megan explains, the frantic pace is also common the year before an election. "Generally, the legislature is quieter during an election year, so I think lawmakers were anxious to get a lot of work moved through this year."
Listen to "Colorado Matters," May 13- 16, for a recap of the legislative session. In the coming weeks, you'll also find reports on the implications of new laws that have passed as Megan continues to dig deeper into those stories. Hear past coverage of the 2013 legislative session at www.cpr.org.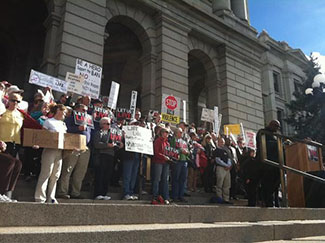 Photo: Citizens rally for gun control legislation at the Capitol.
| | |
| --- | --- |
| | OPEN AIR GEARS UP FOR SUMMER CONCERT SEASON |
As winter loosens its grip on Colorado, OpenAir is preparing for summer days – outdoor concerts and events, and plenty of live music and sunshine.
"When temperatures warm up, you really start to feel the energy and excitement of the local music scene," says OpenAir Program Director Mike Flanagan. "We're happy to be a part of it and look forward to hosting several events around town, including the Denver Post Underground Music Showcase where we'll be checking in with national artists like Cults, Mudhoney and Lord Huron, as well as local favorites Nathaniel Rateliff, Ian Cooke and Snake Rattle Rattle Snake."
Join OpenAir at these upcoming events:
Yo La Tengo at the Boulder Theater
May 21, 7:30 p.m.
OpenAir hosts Yo La Tengo at the Boulder Theater with music from their latest album, "Fade." On the day of the concert, OpenAir will preview songs by the indie-rock band starting at 7 a.m.
Raise the Roof
June 20, July 11 and Aug. 15, 6-10 p.m.
There are three opportunities to enjoy free, live music and entertainment this summer as OpenAir hosts "Raise the Roof," an elevated block party at the Sie Film Center produced by the Denver Film Society.
The Denver Post Underground Music Showcase
July 18-21
Take part in a Denver tradition and visit OpenAir hosts at the 13th annual Denver Post Underground Music Showcase on South Broadway. Stay tuned for details about OpenAir's coverage next month.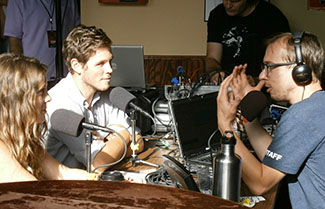 Photo: OpenAir Host Corey Jones interviews Paper Bird band members at the 2012 Underground Music Showcase.