THURSDAY, APRIL 4, 2013
| | |
| --- | --- |
| | TWO-HOUR LIVE BROADCAST CAPS OFF 'COLORADO SPOTLIGHT' 10TH ANNIVERSARY CELEBRATION |
This Sunday, April 7 at 7 p.m., join CPR Classical for a live broadcast from the CPR Performance Studio featuring the Ivy Street Trio and the Colorado Chamber Players. It's the final event in CPR's week-long "Colorado Spotlight" showcase celebrating 10 years of partnership with classical organizations in our state.
"When we started 'Colorado Spotlight,' we weren't sure we'd have enough local content to produce a daily program; but here we are, 10 years later with an archive of hundreds of live and recorded performances," says "Colorado Spotlight" Host Charley Samson. "The program really shows how alive and well the classical music community is here in Colorado."
Over the last week, Charley shared memorable performances and interviews from "Colorado Spotlight's" 10-year history, including highlights from past performances by the Colorado Symphony, Friends of Chamber Music and several of the state's summer music festivals.
During Sunday's live broadcast, which begins at 7 p.m., we'll hear music by talented local musicians, including members of the Colorado Symphony.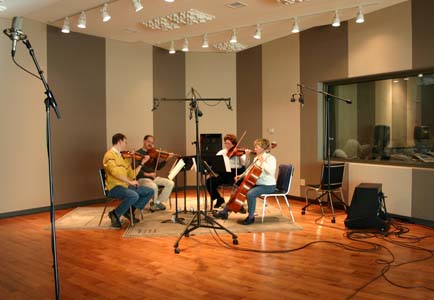 Photo: An earlier performance by the Colorado Chamber Players in the CPR Performance Studio.
| | |
| --- | --- |
| | 'LOSING GROUND' SERIES CONTINUES WITH A CLOSER LOOK AT EDUCATION AND RACIAL DISPARITIES |
Earlier this year, CPR News teamed up with the I-News Network to launch the "Losing Ground" series, which examines Colorado's growing racial gap and its affect on several issues, including education and economics. CPR reporters have been examining the roots of the gap, especially in education.
"Census data shows education as a key area where minorities are falling behind," says Lee Hill, CPR's Public Insight Network (PIN) analyst and reporter. "After hearing from so many people through PIN who were particularly concerned about the education system and what's happening in their communities, we decided to bring folks together to have a conversation about solutions in education that could ease the gap."
In the next installment of "Losing Ground," CPR News will moderate a panel discussion with education experts and PIN participants to get a sense of system-wide trends in education and how they contribute to racial disparities Coloradans are experiencing.
Stay tuned for more on "Losing Ground" as the series continues later this spring.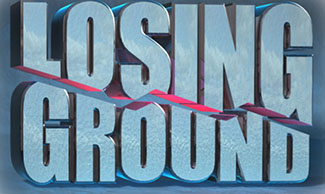 LOCAL BANDS PUT COLORADO ON THE
MAP AT SXSW
OpenAir hosts and producers Mike Flanagan, Corey Jones and David Fender returned from Austin, Texas, after a week of reporting from South By Southwest, one of the nation's largest music festivals for new and independent music.
"Colorado got some great exposure at SXSW," says Corey. "With a festival of this magnitude, it's always hard to get a true indication of the impact, but the Colorado music community really banded together and opened up people's eyes and ears to all sorts of music from our state."
Colorado acts included Flashbulb Fires, In the Whale, Churchill, and Fierce Bad Rabbit, a group that received national attention last month when they were featured on NPR's list of 100 songs to discover at SXSW.
For Audio Producer David Fender, SXSW was the perfect opportunity to fine tune the production process for live music events. "Any time you're outside the studio, you're guaranteed to face audio challenges," explains David. "It's important to capture some of the naturally occurring sounds to give people a sense of place and to add texture, but it has to be balanced with the most important audio element—the music." David will apply production lessons learned at SXSW later this year when OpenAir covers the Denver Post Underground Music Showcase in July.
Find OpenAir's complete coverage of SXSW at OpenAirCPR.org, including this audio postcard from David. For a comprehensive event recap, listen to Corey's interview on CPR News.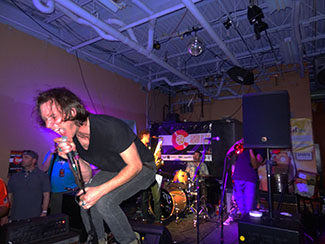 Photo: Denver band A. Tom Collins performs at SXSW.
| | |
| --- | --- |
| | COMING UP: CPR CLASSICAL BROADCASTS THE COLORADO SYMPHONY LIVE |
On April 26 at 7:30 p.m., CPR Classical will present a live broadcast of the Colorado Symphony's "Masterworks of the Americas." Conducted by Scott O'Neil with violinist Nadja Salerno-Sonnenberg, the concert includes performances of "Sensemayá" by Silvestre Revueltas, "The Four Seasons of Buenos Aires" by Astor Piazzolla, and Aaron Copland's third and final symphony.
Host Charley Samson will have interviews and notes about the program throughout the broadcast. Learn more about "Masterworks of the Americas."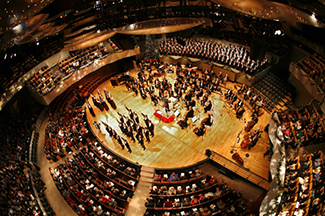 Photo credit: The Colorado Symphony.