THURSDAY, MARCH 7, 2013
| | |
| --- | --- |
| | CHANGE A CHILD'S LIFE. DONATE AN INSTRUMENT. |
With more than a week left in CPR's Instrument Drive, there's still plenty of time to donate your band or orchestra instrument. Bring it to any of the 13 drop-off locations in Denver, Boulder, Golden, Pueblo and Grand Junction, now through March 16. We'll repair your instrument and give it to a Colorado student to help strengthen music education and appreciation throughout the state.
"The Instrument Drive is an extension of CPR's mission to enrich and engage the Colorado community," says Steve Blatt, CPR's director of community programs. "Giving children the opportunity to play music has been shown to improve learning and listening skills, self-discipline and self-esteem. The benefits are truly immeasurable and we're very proud to be able to impact the Colorado community in such a positive way."
Watch this video to see how one instrument donation can make a difference.
Donated instruments are awarded to Colorado schools that can support a successful music education program, most of which are Title One schools with a majority of low-income students. Find out if your school is eligible and apply for instruments at www.cpr.org.
If you don't have an instrument, you can still help by sending a donation to:
Instrument Drive Fund
Colorado Public Radio
7409 South Alton Court
Centennial, CO 80112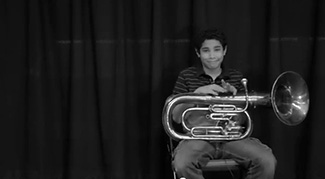 Photo: Fifth-grader Laurence Scarborough at the Centennial Academy of Fine Arts Education plays a baritone horn donated during the 2012 Instrument Drive.
| | |
| --- | --- |
| | COMING UP: 'COLORADO SPOTLIGHT' CELEBRATES 10 YEARS OF COLORADO CLASSICAL MUSIC |
CPR Classical will celebrate the tenth anniversary of "Colorado Spotlight," April 1-7, with a week-long showcase of interviews and music performed throughout the program's history. The celebration will culminate on Sunday, April 7 with a two-hour live broadcast from the CPR Performance Studio featuring the Ivy Street Trio and the Colorado Chamber Players.
"Since we first started 'Colorado Spotlight,' the classical community in Colorado has transformed quite a bit," says Charley Samson, host of the program. "People aren't founding big orchestras anymore, but there's just as much, if not more, music to feature. It's nice to know that the program continues to play an important role in keeping musicians and music enthusiasts connected."
"Colorado Spotlight's" archive includes hundreds of live and recorded performances by the state's leading arts organizations, including local, national and international musicians. The anniversary tribute will delve deep into those archives, revisiting some of Colorado's most memorable musical moments over the last 10 years, beginning April 1. The complete schedule is listed below.
"Colorado Spotlight," 7-8 p.m. weekdays, 7-9 p.m. Sundays
Photo: "Colorado Spotlight" Host Charley Samson with Yumi Hwang-Williams, Colorado Symphony concertmaster.
| | |
| --- | --- |
| | CPR LEGISLATIVE NEWS NOW ON TUMBLR |
Follow CPR's state government blog, Check and Balance, for the latest legislative news while Colorado's General Assembly is in session. You'll find up-to-the-minute reports on issues being debated by lawmakers, including gun control, the state budget and civil unions.
"It's difficult to predict all the topics that Check and Balance will cover since much of what goes on at the capitol is breaking news, but this platform gives us a lot of flexibility to share different types of stories," says Megan Verlee, CPR's general assignment report covering legislative news. "In addition to the daily coverage you'll find, it's also a good place to see behind the scenes of the legislative process."
CPR's complete 2013 legislative coverage continues through May 8.
Photo: Megan Verlee took this photo of the state capitol building while reporting on the legislative session.