TUESDAY, JANUARY 9, 2013
| | |
| --- | --- |
| | CPR CLASSICAL PRESENTS TWO JANUARY LIVE BROADCASTS |
This month, you'll have two opportunities to experience the music produced by some of Colorado's leading arts organizations.
On Jan. 16 at 7:20 p.m., Monika Vischer will host a live broadcast of the regional premiere of Viktor Ullmann's opera, "The Emperor of Atlantis," performed by the Central City Opera. The opera is part of "A Journey of the Human Spirit," an inventive fusion of music and dance and the result of an unprecedented collaboration between five Colorado arts and cultural organizations, including: Central City Opera, the Colorado Symphony, Ballet Nouveau Colorado, the Newman Center for the Performing Arts, and the Mizel Arts and Culture Center at the Jewish Community Center (JCC).
Outside of her official role as host of the live broadcast, Monika has been actively involved in this project since the very beginning. "I started the conversation with the JCC's Executive Director Stuart Raynor in 2007 after co-hosting an award-winning documentary with conductor James Conlon, which was focused on music lost in the Holocaust," says Monika. "The conversation turned into a major artistic partnership between these organizations, and I think people in the arts community are excited to see them come together."
Later this month, CPR Classical will also present a live broadcast when world-renowned soloist Jean-Yves Thibaudet performs with the Colorado Symphony. Join host Charley Samson live from Boettcher Concert Hall on Jan. 25 at 7:30 to hear Saint-Saëns' popular "Piano Concerto No.5," along with works by Berlioz and Respighi.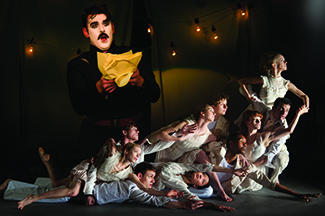 Photo: Music and dance collide during "A Journey of the Human Spirit." Photo credits: Kaiser Image: Joanne Bouknight; Dancer Image: Mark Sink, Kristen Hatgi, Garrett Ammon and Ballet Nouveau Colorado.
| | |
| --- | --- |
| | DEVOTCHKA & THE COLORADO SYMPHONY TEAM UP IN THE CPR PERFORMANCE STUDIO |
Since OpenAir launched in the fall of 2011, CPR's Performance Studio has increasingly become a gathering place for Colorado musicians and all the variety that today's music has to offer. In some cases, music coming out of the CPR Performance Studio transcends genre, as was the case during a recent in-studio performance featuring nationally-recognized band DeVotchKa and musicians from the Colorado Symphony.
"CPR's Performance Studio has hosted a wide range of musicians with varying talents, but this was the first time we've seen a performance that combines both new and classical music," says Doug Clifton, CPR's vice president of music. "The great thing about this type of collaboration is that it reminds people of the true depth of classical and new music."
As part of their collaboration, DeVotchKa and the Colorado Symphony released a new album last month, which highlights their 2012 performance at Boettcher Concert Hall.
"DeVotchKa is a local legend, really one of the true success stories to come out of the Colorado music scene," says OpenAir host Corey Jones. "One of the main reasons they've gained worldwide attention is because their sound is so layered. They shift seamlessly between different styles, bridging the gap between contemporary and classical, which creates an unexpected sound."
In an interview after the performance, Corey asked the band how they're able to blend different music styles so successfully. Tom Hagerman, who plays violin, accordion and piano, spoke about the inherent challenges of playing with an orchestra, noting, "the potential for a 70-person train wreck is always right around the corner if you get off by even one measure. You have to stick to a very rigid form," which is not always characteristic of the band's style of music. Hear more of the band's interview.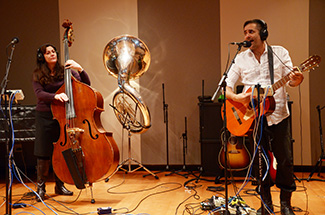 Photo: DeVotchKa's Nick Urata and Jeanie Schroder in the CPR Performance Studio.

| | |
| --- | --- |
| | CPR AWARDS MORE THAN 80 INSTRUMENTS TO PUEBLO SCHOOLS |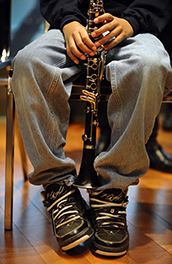 In 2012, CPR awarded more than 500 musical instruments to underfunded schools throughout the state. The Pueblo community recently received more than 80 of those instruments, which will help strengthen music education and appreciation programs in seven area schools.
"We work hard to ensure that CPR's Annual Instrument Drive meets the needs of deserving school music programs throughout Colorado, from Grand Junction to Vail and all along Front Range," says Steve Blatt, CPR's director of community programs. "Awarding these instruments to Pueblo City Schools is part of that commitment and helps fulfill our mission to give students in all different communities the chance to learn how to play an instrument."
Read more about CPR's recent instrument donation in the Pueblo Chieftain and stay tuned for more information about the 2013 Instrument Drive, which will run Mar. 1-16.
Photo credit: The Denver Post.