THURSDAY, MARCH 6, 2014
| | |
| --- | --- |
| | WEEKLY ARTS SHOW DEBUTS WITH 'RADIO DANCES' |
Colorado Public Radio's new arts bureau will launch a weekly arts program beginning this Friday, March 7, at 10:30 a.m. The inaugural show explores the sounds of dance on the airwaves, an idea that was partly inspired by a conversation between CPR's arts editor and host Chloe Veltman and "This American Life" host Ira Glass. CPR's "Radio Dances" will feature an interview with Ira and dance-makers Anna Bass and Monika Bill Barnes about the concept of mixing audio and movement, along with performances from some of Colorado's top dance groups, including Wonderbound and Denver Swing Dance.
"'Radio Dances' is an example of the type of stories we'll cover each week, but it's really just the beginning," says Chloe. "Listeners can expect a wide variety of content both on air and online, from interviews and reviews to in-depth stories accompanied by photos and videos."
The arts show is part of CPR's newsroom expansion, which also includes the growth of "Colorado Matters" to an hour and an enhanced digital presence. Watch this video to learn more.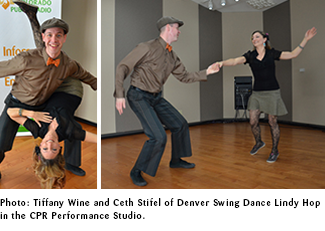 | | |
| --- | --- |
| | TAKE A VIRTUAL JOURNEY TO SXSW WITH OPEN AIR |
This month, OpenAir hosts and producers Mike Flanagan, David Fender and Alisha Sweeney head to Austin, Texas, to share stories and connect with Colorado musicians at one of the biggest music festivals of the year, South by Southwest (SXSW), March 7–16.
"The Colorado music scene is well-represented at SXSW, and we'll be working to share those stories with listeners on air and through regular updates on our website, including photos, interviews and festival news," says Alisha. "Mike and I will be soaking up the sounds on Sixth Street and blogging about our experiences, so a daily visit to www.openaircpr.org will be the next best thing to being there!"
OpenAir is also an event partner for the festival's "Colorado Music Party," showcasing top artists from Colorado's new-music scene during a two-day celebration, March 13-14. Watch the Colorado Music Party video.
Stay in touch on Facebook, at www.openaircpr.org, and follow the latest Tweets from Alisha at @OpenAirAlisha and Mike at @OpenAirMike.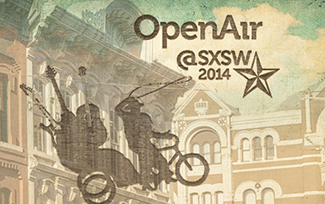 | | |
| --- | --- |
| | MEET CPR'S DIGITAL PRODUCERS |
OpenAir's Daniel Mescher and CPR Classical's Brad Turner are the newest staff members to join the expanded digital team at CPR. As digital producers, they're ensuring all the music news and information you find at www.cpr.org is interesting and fresh. Daniel brings context and depth to stories from the new-music scene while Brad shares the latest updates from the classical music community.
"We're adding new dimensions to the programs you hear on air," says Brad. "Listeners will find a lot of enlightening and inspiring material on our website and new ways to interact with CPR using social media."
In a similar way, Daniel's work enriches information for OpenAir listeners:
"We've happily embraced the digital age, and we're posting video and stories that stand on their own to help listeners make musical discoveries and find engaging music every day."
Explore some of the latest music news from Brad at www.cprclassical.org and Daniel at www.openaircpr.org.