THURSDAY, FEBRUARY 6, 2014
| | |
| --- | --- |
| | COMING UP: OPEN AIR COVERS SOUTH BY SOUTHWEST |
For the third year in a row, OpenAir will head to Austin, Texas, to share stories from one of the biggest music festivals of the year, South by Southwest (SXSW), March 7–16.
Over the next month, OpenAir hosts and producers Mike Flanagan, David Fender and Alisha Sweeney will be busy mapping out shows and connecting with Colorado musicians performing at SXSW, including Ark Life and The Yawpers.
A special feature of coverage this year is the festival's "Colorado Music Party," where event partners OpenAir, SpokesBUZZ and Reverb will showcase top artists from Colorado's new-music scene during this two-day celebration, March 13–14. Register to attend the event.
Listen to OpenAir in the coming weeks to find out more about SXSW news, and follow the latest updates on Facebook and Twitter.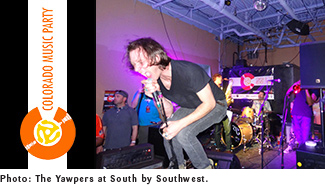 | | |
| --- | --- |
| | WIN TRIPS TO ITALY AND NYC DURING THE WINTER PLEDGE DRIVE |
CPR is offering trips to two different destinations during the Winter Pledge Drive, which runs Feb.19–27.
One lucky winner will get immersed in the heart of Tuscany during a seven-night trip for two to Italy, courtesy of Denver-based Global Journeys. Valued at $9,000, this vacation includes lodging at a 13th century villa, visits to cities and remote villages and a chance to learn about winemaking in the beautiful Chianti region of Tuscany.
The Winter Drive features several other sweepstakes, including a $6,000 trip to New York City where the winner will spend five days taking in all the sights of the Big Apple, including two performances and high tea at the Plaza Hotel.
Listen to the Winter Pledge Drive and help CPR continue to inform, enlighten and entertain the Colorado community. Start or renew your membership and support the programs that matter to you. Pledge now.