thurSDAY, JANUARY 9, 2014
| | |
| --- | --- |
| | ARTS BUREAU UPDATE: OPEN AIR'S COREY JONES HIRED |

Photo: Corey H. Jones
Former OpenAir host and producer Corey H. Jones is the newest addition to CPR's arts bureau. Along with Arts Editor Chloe Veltman and fellow arts reporter Ange-Aimée Woods, Corey will report on a wide range of cultural topics with stories, interviews and reviews featured on air and online across all three of CPR's news and music services.
"Colorado offers so many opportunities to explore art and culture, something I've seen first-hand being immersed in the local music scene at OpenAir," says Corey. "I'm looking forward to expanding that lens and telling the creative stories that are happening all across the state, from museum exhibits and theater to concerts and new-music collaborations."
Corey's radio and journalism experience includes work at Radio 1190 and contributions to the Boulder Daily Camera and 5280 Magazine. In addition to being one of OpenAir's first hosts, he also created the mid-day local music show, "Mile High Noon," helping to put OpenAir on the map as a top source for Colorado music.
As part of CPR's efforts to provide a major resource for arts news, Corey will cover the full breadth and depth of Colorado's arts community. Find the latest arts coverage at www.cpr.org and follow Corey on Twitter at @CPRJones.
| | |
| --- | --- |
| | 'CPR ON SANTA FE' LIVE EVENTS CONTINUE AT ARTWORK NETWORK |
"CPR on Santa Fe" events in 2014 include programs dedicated to classical music, arts and news. CPR hosts and special guests take center stage to inform, enlighten and entertain at Artwork Network in the historic Santa Fe arts district. View the spring schedule, which includes an appearance by NPR's Steve Inskeep in March.
"OpenAir's Songwriters Showcase" kicked off the series last fall with musical performances and a Q & A about the art of songwriting. This month's sold-out event on Jan. 16 is "A Musician's Life." The evening is presented by CPR Classical and will feature performances and conversations with renowned conductor Jeffrey Kahane, Colorado Symphony Principal Flute Brook Ferguson and piano prodigy Jan Lisiecki. If you didn't get a ticket, you can still tune in and enjoy CPR's live broadcasts of Jeffrey and Jan performing with the Colorado Symphony on Jan. 17 and 18 at 7:30 p.m. and Jan. 19 at 2:30 p.m.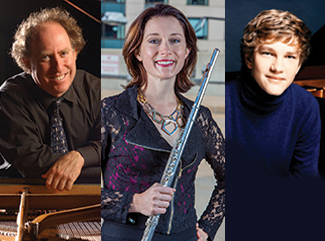 Photos (L–R): Jeffrey Kahane, photo credit: Colorado Symphony; Brook Ferguson, photo credit: Jim Mimna; and Jan Lisiecki, photo credit: Mathias Bothor.