FRIDAY, SEPTEMBER 6, 2013
| | |
| --- | --- |
| | GET YOUR COPY OF COLORADO LIVE AND LOCAL VOL. 3 |
Experience never-before-released music on the third volume of OpenAir's "Colorado Live and Local," available only to CPR members during the Fall Pledge Drive, Oct. 9-17.
"This CD is a wide representation of the different genres that make up the Colorado community,"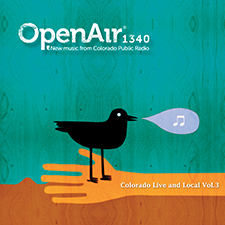 says OpenAir Music Director Jessi Whitten. "From Andy Palmer to The Sound Junkies and Esmé Patterson to Flashbulb Fires, it's your own personal tour of Colorado's multidimensional music scene."
The CD includes 20 tracks from rising talent within Colorado's music community, including an OpenAir exclusive by Wheelchair Sports Camp. The group's song, "Dirty Word," was recorded in the CPR Performance Studio last fall in a unique collaboration with almost a dozen local musicians.
Listen to next month's Fall Pledge Drive, Oct. 9-17, for details on how to get your copy of "Colorado Live and Local Vol. 3."
| | |
| --- | --- |
| | PIN REPORTER LEE HILL NAMED CABJ'S RADIO JOURNALIST OF THE YEAR |
Since joining CPR in 2011, Lee Hill has extended CPR's reporting into diverse communities, bringing new voices to the air through the Public Insight Network (PIN). Last month, Lee's efforts were recognized by the Colorado Association of Black Journalists (CABJ) when peers and fellow members of the organization named him Radio Broadcast Journalist of the Year.
Much of Lee's recognition is a result of his work highlighting Colorado's Black and Latino communities. He contributed to several stories in CPR's "Losing Ground" series, including discussions among Black men about racial disparities and stories from Latino entrepreneurs about starting and growing businesses in Colorado.
Visit www.cpr.org to learn more about Lee's role as CPR's Public Insight Network Reporter and sign up to share your stories today.