THURSDAY, FEBRUARY 7, 2013
| | |
| --- | --- |
| | ARTS COVERAGE TO INCREASE SUBSTANTIALLY WITH CPR'S FIRST MULTI-MEDIA NEWS BUREAU |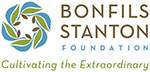 Thanks to a generous, three-year, $900,000 grant from the Bonfils-Stanton Foundation, Colorado Public Radio is creating a full multi-media arts news bureau and online arts hub. As a result, you'll hear an increase in CPR's arts and cultural reporting, and you'll have a new, online resource to turn to for complete information about the Colorado arts scene.
"We're honored that the Bonfils-Stanton Foundation has endorsed our commitment to Colorado news and arts," says CPR President Max Wycisk. "This will transform Colorado Public Radio, providing the first full news bureau for CPR News, and significantly expanding our existing commitment to arts in Colorado through CPR Classical and OpenAir."
Whether you want to understand the major arts and cultural issues or just decide what to do this weekend, you'll now have a trusted place to go. CPR's arts coverage will range from previews and in-depth stories, to funding and sustainability of the arts, and connections to other topic areas such as education and state government. Reviews, interviews, audio and video performances, and events calendars will all be part of the online arts hub with content featured regularly across all three of CPR's services.
CPR is hiring three full-time content creators, including an arts editor and two full-time reporters.
| | |
| --- | --- |
| | INSTRUMENT DONATIONS CREATE CHANGE FOR COLORADO STUDENTS |
Since 2009, CPR has collected more than 1,300 instruments during the Annual Instrument Drive to help give the gift of music to Colorado students. These instruments, like the baritone horn donated by CPR listener Jim Hidahl, have changed many lives over the course of time and continue to have an impact on student musicians today.
"In my family, music was always really important, and it just sort of became automatic that all of my brothers and sisters learned to play instruments," says Jim.
Knowing what an important role the baritone horn played in his life, Jim decided to pass his instrument on last spring during CPR's Annual Instrument Drive. Once donated, the baritone then made its way into the skilled hands of technicians at the Colorado Institute of Musical Instrument Technology (CIOMIT), who restored it to almost-new condition. Today, the baritone is played by Laurence Scarborough, a devoted fifth-grade band student at the Centennial Academy of Fine Arts Education.
If you have an instrument in good condition that you no longer play, consider donating it during CPR's Annual Instrument Drive, which runs from March 1-16. Learn more about the 2013 Instrument Drive at www.cpr.org.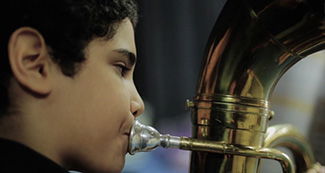 Photo: Laurence Scarborough, a fifth-grader at the Centennial Academy of Fine Arts Education, practices with the school's band.
| | |
| --- | --- |
| | COLORADO TALENT ON NPR'S 'FROM THE TOP' |
Two promising young Colorado musicians will be featured on a special CPR Classical broadcast of "From the Top," Feb. 24 at 6 p.m. Violinist Emily Switzer of Denver and organist Bryan Dunnewald of Arvada, both 17, performed during a concert with the Colorado Symphony, which was recorded at Boettcher Concert Hall last month. "From the Top" is hosted by pianist Christopher O'Riley and showcases the talents of young classical musicians across the country. Watch a video of Emily Switzer during her recent visit to the CPR Performance Studio.
Also on CPR Classical this month, join host Charley Samson on Feb. 17 at 2 p.m. for a live broadcast of "Romeo and Juliet," opening Opera Colorado's 30th Anniversary Season. Conducted by Robert Wood, the French opera stars soprano Ava Pine and Italian-tenor Giuseppe Varano as the ill-fated young lovers from Shakespeare's tragic tale.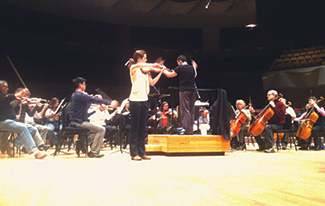 Photo: Emily Switzer rehearses with the Colorado Symphony before the "From the Top" concert in January, 2013.
| | |
| --- | --- |
| | TRIPS TO HAWAII AND D.C. UP FOR GRABS DURING THE WINTER PLEDGE DRIVE |
CPR is offering trips to two different destinations during the Winter Pledge Drive, which runs through Feb. 14. One lucky winner will experience a five-day tour of our nation's capital valued at $5,000, while someone else will enjoy a six-day, $3,000 vacation on the tropical beaches of Oahu. There are several additional sweepstakes available throughout the Winter Pledge Drive, totaling more than $10,000 in value and you can enter them all.

Hundreds of listeners already pledged their support during the Warp Drive on Jan 30, which means we're that much closer to the Winter Pledge Drive goal of 9,600 pledges.

Start or renew your membership and support the programming that matters to you. Pledge now.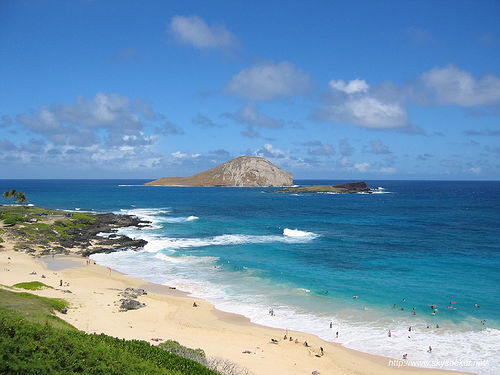 Photo credit: Flickr user skyseeker.